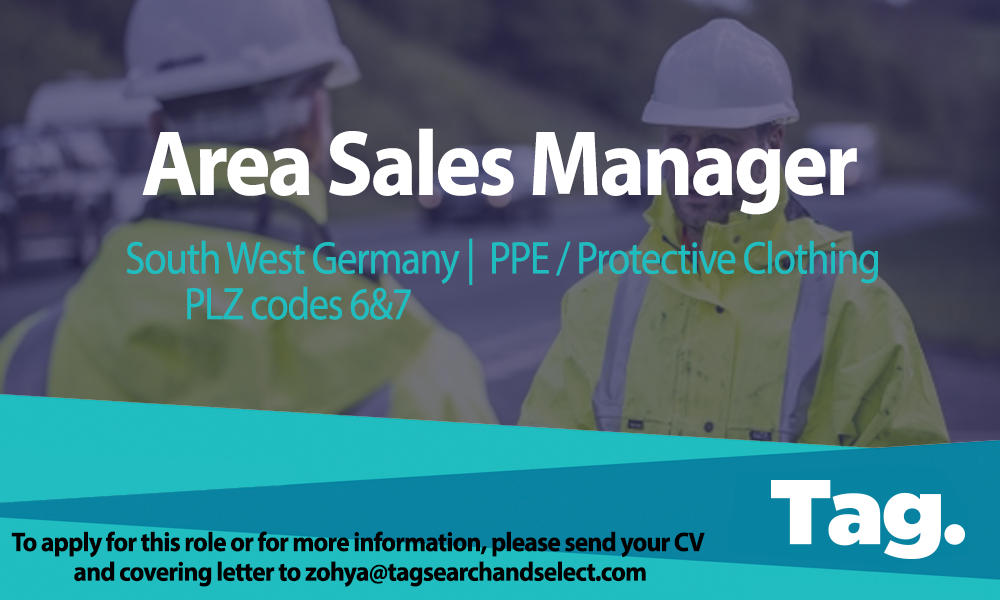 TAG Search and select are working in partnership with a global, well-established protective clothing manufacturer to find them a specialist area sales manager to join their successful sales team in the South West of Germany. Please see job brief below.
For specialist consultation on who this client is please get in touch ASAP
Job description in brief:
To sell a full range of products through developing business with customers, prospects and suspects, distributors and end users, within a defined geographic area in order to meet the fixed sales targets.
Activities (below list is not exhaustive):
A permanent follow-up of the market situation at the side of the customers as well the competition (products, prices, promotion, …) and spread this information
At least weekly reporting of each visit via CRM (Microsoft Dynamics)
Analyse and define the customer needs, and development of a complete sales tool to reply to these needs and to stimulate the sales
Planning of visits in relation to quality of visits and quantity of visits through a weekly planning (to be made in advance)
Organises and/or attend at international, national or local fairs as well as open days at the customer and/or other customer events in order to give advice and to promote the range of products
Respect the rules regarding payments and credit as given by the financial department
through other sales managers and sales director
Replying quickly on all requirements asked by the customers, internal sales and sales director
Establish excellent contacts with the customers on different occasions
Search, identify and develop potential key customers (distributors and end users) in order to increase the market-share within the geographic area
Actively participating at the national and international sales meetings through commenting on the sales budgets, new and existing products, etc.
Analyse and propose solutions to customer claims, handling of claims
Follow-up of the payments of the customers together with the sales staff
Contacts:
Contact friendly internally (sales staff, manager, management, colleagues, and externally
Work together and open communication with other sales managers in Germany, AT/CH, etc.
 Challenges:
Create year after year a profitable sustainable growth of turnover, number of projects, number of customers, margin, within the defined area combined with excellent customer relations.
Skills / Education / Experience required:
Clear and direct communication internally as well externally
Create enthusiasm throughout the whole organisation in order to achieve the set goals.
Well organised, being able to work independently
To know and to be able to explain technical characteristics about the products, fabrics as well EN Norms
Knowing and acting accordingly the commercial strategy as defined by the sales director
Contact friendly, interested in people, open-minded, positive thinking
Be the company ambassador towards the customer in a professional manner
To apply or hear more about this role, or request on client information, please do not hesitate to contact Zohya Caan at TAG Search and Select at zohya@tagsearchandselect.com