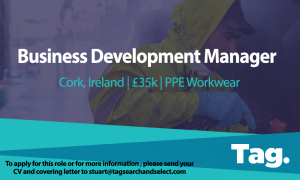 Cork Ireland , €35,000 + Bonus (€45,000 OTE), PPE Workwear.
Role in brief;
Manage our existing distribution portfolio within your allocated geography. Develop initiatives and programs to increase our spend share within these distributors. Create demand for the companies' extensive range of safety clothing at targeted end users, whilst back selling through our distribution network.
Drive demand for our product range by working with end users both independently and with distributors to achieve profitable sales growth. Set annual objectives with selected distributors to increase share of spend.
Key Activities;
Achieve sustainable, profitable year on year sales growth
Spend 60% of time with end users
Input and maintain high-quality reporting into our Microsoft Dynamics CRM system.
Effective and efficient management of expenses
Attend exhibitions and open days.
Take an active role in National and International sales meetings
Effective management of time
Play a key part in ensuring a high level of customer satisfaction.
Identify opportunities for new product development and new markets.
Skills and Experience;
You are a self-driven and motivated individual
A clear communicator with a track record of working independently and as part of a team.
A proven results-driven sales person.
Computer literate
If you would like to apply for this opportunity then please contact Stuart Law on stuart@tagsearchandselect.com