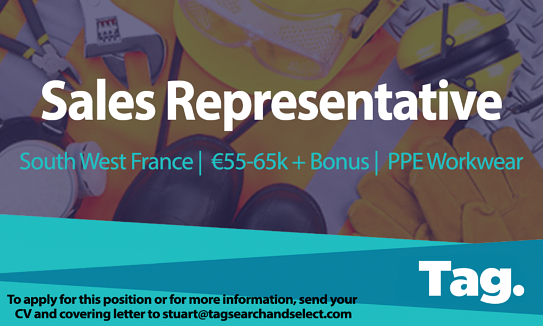 A great opportunity to join a fast-growing international company as a committed Sales Representative, working in the Workwear Sector and covering the South West of France.
The Role
Confidently sell to existing, and develop a new distributor network in the workwear sector.
Develop and host presentations of the product catalogue to existing and potential distributors to generate new relationships.
Train, develop and make joint end-user consultative calls working with the distributors' sales team.
Provide the best customer service and product guidance on the market, ensuring that you stay up to date with the company's product range and current market trends.
Build a strong external network whilst managing and maintaining strong existing relationships to build the customer base.
Meet deadlines as detailed in an efficient, organised manner.
Responsible for increasing the number of direct sales to distributors and, to a lesser extent, end users and being able to provide evidence of this when directed to do so.
The Candidate
3-5 years of experience in sales in a relevant field.
Driven and ambitious
Based and covering the South West of France so the candidate is expected to live here, preferably in the Bordeaux/ Toulouse area.
Effective communicator with a professional personal and digital presence
Proficiency in the use of computers and CRM systems
Must be proficient in the English language ( both written and verbal) as this is required for international sales meetings.
To apply for this role or for more information please send your CV and covering letter to stuart@tagsearchandselect.com for a confidential consultation.