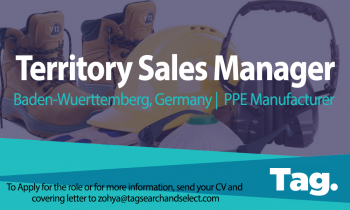 Bonus+ Car, laptop, phone etc.
Ideally based in Baden-Wuerttemberg , Germany.
The Role
Daily report activities in our CRM system
Regularly report sales results, as well as keep up to date on sales and other strategic changes that affect the sales process
Build strong external networks and make the company known as a leader in personal protection.
Actively participate in events for clients
Translate strategic targets into a RAC plan.
Define ambitious and realistic sales targets and distribute these targets and/or sales platform targets.
Be a role model and actively drive the company's Business plan.
Implement additional duties assigned by the manager.
Generate turnover for existing and new customers.
Taking responsibility for territory customers and prospects, distributors and end users.
Be actively involved in 1 or more teams for strategic customers.
Supply customer and prospect information through CRM.
Supply market information and needs to Products and Innovation.
The Candidate
Relevant University Degree
Fluency in English and language of the assigned region
Minimum of 2-3 years Sales experience in a relevant field
Energetic
Persevering
Mature
Structured
To apply for this role or for more information please send your CV and covering letter to Zohya Caan at TAG   Search and Select for a confidential consultation.