The Professional Clothing Industry Association Worldwide (PCIAW®) Exhibition is free to attend and will display design-led uniforms, functional workwear, and lifesaving personal protective equipment (PPE). The exhibiting garments will adorn the models in the accompanying professional clothing fashion show.
The PCIAW® Exhibition will take place on 18-19 October at the Radisson Blu Edwardian Hotel, Heathrow, London, alongside the PCIAW® Summit & Awards, an event that will bring together one of the largest gatherings of professional clothing executives in the world.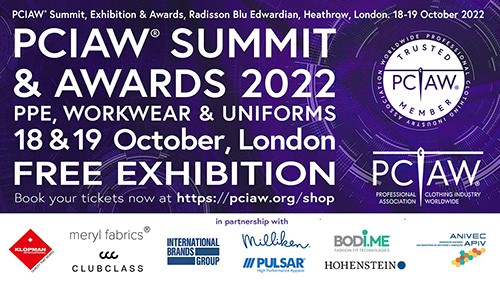 PCIAW® Exhibition offers global networking for professional clothing innovations
The PCIAW® Exhibition will start at 9am-6pm on Tuesday 18th October and 9am-3pm on Wednesday 19th October 2022. As the only UK-based exhibition to showcase all markets of the uniform, workwear, and PPE markets, the PCIAW® Exhibition is forging its position to create global networking opportunities.
Exhibitors announced
ANIVEC
Bodi Data
Clubclass
GORE-TEX
Incorporatewear
International Brands Group
Madeira Threads
Meryl Fabrics®
Technopoly
Tower Supplies
The Tunisian delegation is exhibiting
Butterfly
FIMCO International
Iris Confection
JICC Trade
Latco
Nearshore manufacturing solutions from Portugal and Tunisia
In the drive towards nearshore manufacturing, the PCIAW® Exhibition will host PCIAW® partners from Portugal and Tunisia. As the professional clothing association, PCIAW® is forging links with ANIVEC, the Portuguese Apparel and Clothing Association, who are proudly sponsoring the PCIAW® Summit & Awards for the sixth year running.
This year from Tunisia, CEPEX, the Export Promotion Agency and FIPA, the Foreign Investment Promotion Agency, are supporting its high-quality professional clothing manufacturers to showcase their nearshore skillsets following the PCIAW® trade delegation to Tunisia, across all markets of uniforms, workwear, and PPE.
The professional clothing fashion show adds flair to the event
Finally, adding excitement to the PCIAW® Exhibition will be the professional clothing fashion show, occurring throughout the day, wearing not only the exhibiting companies' garments but also the outfits from the finalists of PCA VISION, the global student design competition, which challenges the next generation of talent to design sustainable uniforms, workwear or PPE which is both functional and realistic.
Book your FREE ticket today
Tickets for the PCIAW® Exhibition are free. The UK's only professional clothing exhibition for all corporate uniforms, workwear and PPE will take place alongside the PCIAW® Summit & Awards 2022.