In line with our strategy to be able to offer the best talent (and opportunities) globally, we're happy to announce that our Global Account Manager Stuart Law will be attending the National Safety Conference and Expo in Houston, from the 22nd-24th October.
Stuart has worked extensively with many of the worlds leading safety manufacturers and distributors, with a particular focus on helping North American and European manufacturers expand into new markets and territories. So if you're looking to expand your team or offer your product to new international markets, then Stuart is your man!
To schedule an appointment to discuss any upcoming recruitment requirements you may have, or to discuss the wider strategy to expand your brand into new markets globally, please email stuart@tagsearchandselect.com along with a proposed time, date and location and we'll be happy to confirm that for you.
As global recruiters specialising in the safety industry, we understand that it is essential to not only maintain an accurate knowledge of our clients and candidates but more importantly, to maintain a broader knowledge on the safety industry as a whole. Far too many companies (particularly within the recruitment industry) make bold claims about their expertise, but when push comes to shove, they often know little more than is required. That's not the case with TAG.
For the past 10 years, our ethos has always been that in order to make the best recommendations we can for our clients and candidates, we need to live and breathe the industry we operate in. However, rather than take the lazy approach of simply following a company on Twitter, LinkedIn or Instagram etc. We understood that in order to live up to our reputation, we had to not only be active in the market but physically present.
What we do differently?
With that in mind, what better way to achieve this than to attend events that bring all of our clients, candidates and technologies together? Over the past 10 years, we've appointed consultants to attended exhibitions all over the world within their respective regions. Below is just a small sample of some of the Expo's we've attended recently: –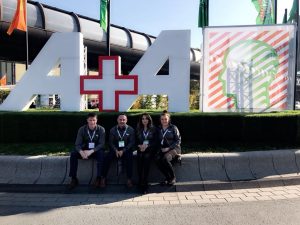 Safety and Health Expo, UK
Expo Protection, France
Adipec, Abu Dhabi
Intersec, Dubai
A+A, Germany
OS+HA Safety, Singapore
The Health & Safety Event, UK
Having a healthy global network of clients and candidates ensures that our staff are up to speed on all the latest developments, acquisitions and technologies within the industry. This provides us with a unique insight in not only who to recruit, but why, when and where.  So with TAG, you're not just getting a recruiter. You're getting an industry professional.
If you'd like to discuss any recruitment requirements that you may have then please contact stuart@tagsearchandselect.com to discuss.